Investing in new technology and creative content in order to improve and encourage subscriptions for video-on-demand services lies at the core of business models today. Understanding how subscribers use these services and why they use them it's as important as making financial investments for improving video-on-demand content.
How does a consumer fit into the grand scheme of subscription-based VoD services? What does the profile of an average VoD consumer look like? How much are consumers willing to pay for these services? Would they pay more if the content was more creative, more intriguing, more diverse, etc.? These are the questions for which we'll try to come up with reasonable answers in the following.
Some general traits in VoD consumer profile
In 2010, Rentrak Corporation, the television industry's video-on-demand database currency provider, announced that VoD users were consuming more media content, had higher household incomes, and were more likely to have children in the house than the general population (according to data in " State of VoD Trend Report 2009"). Also, VoD users are usually younger than traditional TV users, as found by Nielsen in the 2013 Cross-Platform Report. Most video-on-demand users fall into the under-50 category, with 31% of users aged 18–34. Within high-income households, VoD services are more prone, the study by Nielsen indicating that 31% of VoD users earn more than $100.000 per year.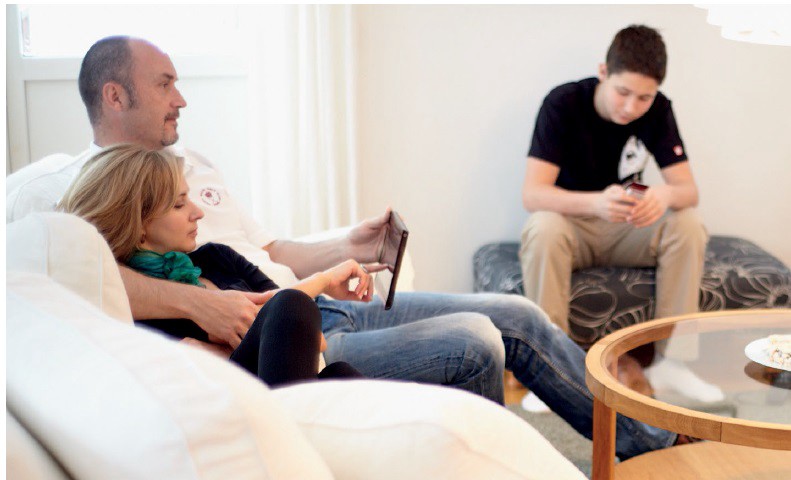 Photo source: Ericsson
What VoD users watch and how they appreciate the content
The featured category in most-watched VoD content is the movie. According to the Nielsen report, 52% of the 100 preferred programs on VoD are films. However, 49% of video-on-demand users say it's difficult to find a movie they like in the VoD catalog. Video-on-demand users are more likely to appreciate and be loyal to particular shows or content with which they're familiar.
Word-of-mouth recommendations from friends, family, and trusted peers influence VoD experiences and various barriers, such as poor video quality or difficult account registrations, could discourage users. Also, viewers are more likely to recommend on-demand service providers than traditional TV providers (Ericsson's TV and Media 2014 report).
What VoD users pay for and are they willing to pay more?
More people are now willing to pay for accessing video content. What's more, according to Ericsson's TV and Media 2014 report, the number of people that are prepared to pay for accessing TV content on any device has increased by 25% since 2012.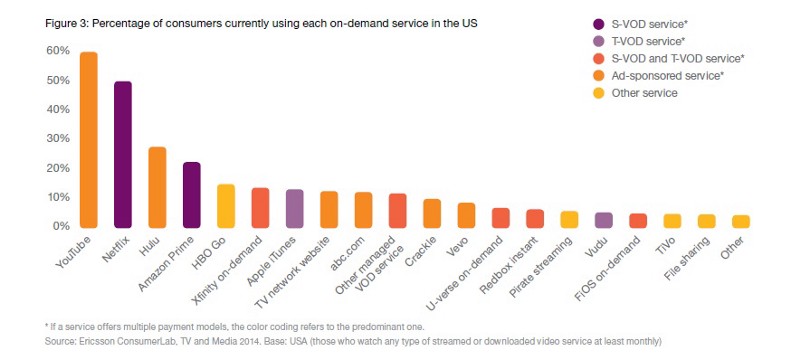 Source: Ericsson
The study by Ericsson revealed that transaction-based VoD (T-VoD) services are not currently a part of most consumers' daily viewing habits, only 14% have included them as cost in the monthly budget. In comparison, users are more willing to pay for SVoD content, 27% have included some kind of subscription-based video on demand cost in their budget.
Video-on-demand services are shaping consumer experiences and changing users' expectations. According to Ericsson, the need for traditional linear TV will decrease as people gain access to on-demand OTT services. However, this also requires providers to come up with new sets of features to respond to users' needs. Enabling personalized recommendations, personalized search, and more social interactivity are but a few of the features that could drive more consumers to pay for VoD services.