There were 52.3 million videos on demand households in the United States in 2010, according to Statista, which predicts the number will grow to 76.1 in 2016.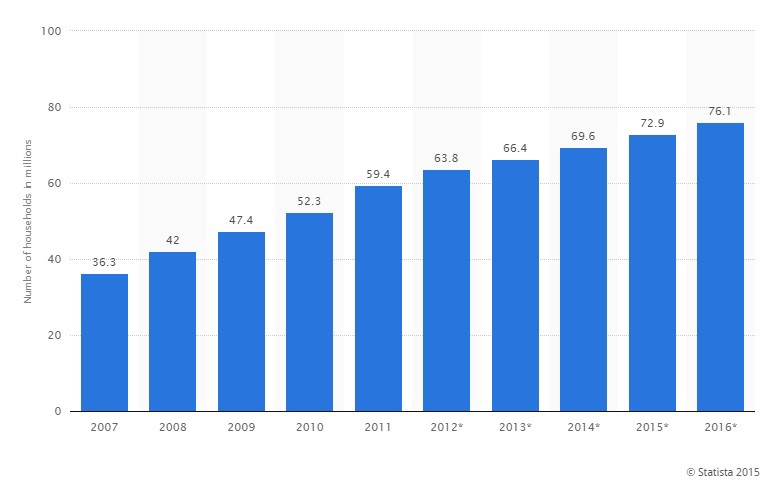 According to Nielsen in The Total Audience Report Q4 2014, "over 40% of US homes had access to an SVoD service as of November 2014 and 13% of homes had multiple streaming services in their homes." Nielsen revealed that Netflix services dominate the subscription video-on-demand services, having a 36% market share. In comparison, Amazon Prime has a 13% market share and Hulu Plus a 6.5%.
Also according to Nielsen, households with SVoD services spend 2 hours and 45 minutes on average watching content while households with traditional television spend about 1 hour and 57 minutes. SVoD users tend to be younger than traditional TV viewers (25% of SVoD subscribers are under 35 years, only 11% over 65).
The following are some key trends and findings regarding general media spending and consumer spending in the United States (North America), based on data in the Global Media Report by McKinsey & Company.
Media spending in North America
According to the study, most consumers pay for broadband and broadband spend is expected to grow at a 9.6% compound annual rate over the next five years.
In North America, consumer spending will grow more slowly than overall spending.
North America will outpace Western Europe in terms of growth in consumer spending.
In 2008, consumer spending in North America amounted to 232,346 ($m), grew at a 3.9 compound annual rate for 2008–2013, and is expected to continue to grow at 357,898 ($m) in 2018. Resources: Global Media Report 2014The Total Audience Report Q4 2014